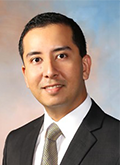 Jafri Kuthubutheen, MBBS (Hons), PhD, FRACS
Department of Otolaryngology Head Neck and Skull Base Surgery, Sir Charles Gairdner Hospital, Nedlands, Western Australia, Australia
Dr. Kuthubutheen graduated from the University of Western Australia with a Bachelor of Medicine and a Bachelor of Surgery with Honours in 2002. He then undertook specialist ENT training in Perth, Western Australia and obtained his Fellowship in Otolaryngology Head and Neck Surgery in 2010 from the Royal Australasian College of Surgeons.
In 2012 he left for Canada to pursue further specialist training as a Fellow in Otology and Skull Base Surgery at Sunnybrook Health Sciences Centre in Toronto. Under the guidance of Dr. Joseph Chen, Dr. Julian Nedzelski and Dr. Vincent Lin, he worked in one of the busiest tertiary adult ear surgery centres in Canada for 2 and 1/2 years. Sunnybrook runs the largest Cochlear Implant program and Acoustic Neuroma service in the country. During his time there, he became the inaugural J Pearson Fellow in Otology and Skull Base Surgery and helped to establish several new research projects.
Prior to leaving for Canada, he was awarded the Warren Jones Postgraduate Research Scholarship from the Fremantle Hospital Medical Research Foundation and the University of Western Australia. In 2017 he obtained his Doctor of Philosophy (PhD) degree in the field of Cochlear Implantation from the University of Western Australia.
He is actively involved in teaching medical students, residents, registrars and fellows. He has presented at many local and international conferences and has been an invited speaker and instructor at overseas skull base surgery courses. His research interests are in the field of hearing loss, cochlear implantation, skull base surgery, teleotology and and Indigenous Ear Health.
He is the current the ENT Clinical Lead for the Kimberley Region of the Western Australian Country Health Service and is the Medical Advisor to the Ear Science Institute of Australia. He coordinates the Otology and Skull Base Surgery Fellowship program at Sir Charles Gairdner Hospital and co-chairs the Perth Children's Hospital Hearing Research Group.
Jafri now works as a Consultant Otology and Skull Base Surgeon at Fiona Stanley Hospital, Perth Children's Hospital and Sir Charles Gairdner Hospital in Perth, Western Australia.
Terms of Appointment: Jan 2019 - Dec 2020